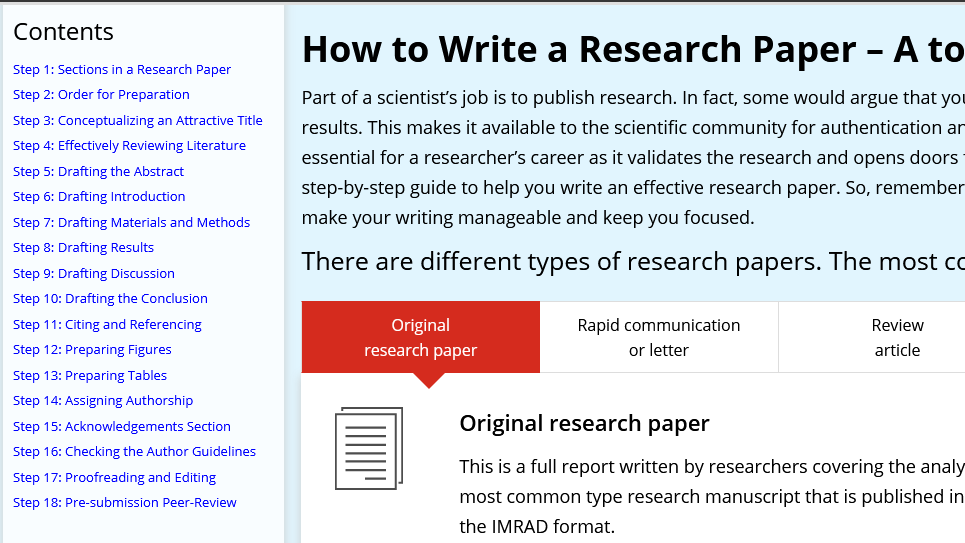 Academic editing giant Enago provides a great online guide/overview of all the basics you need to know about academic writing.
Enago Academy is an extensive online resource for academic writers (it's run by Enago, "a global leader in publication support & language services"). And it has an impressive step-by-step guide to writing an academic paper.
▶ How to Write a Research Paper—A to Z of Academic Writing
I like how at the top they give a brief summary of the different types of research papers:

The A to Z covers topics like
Sections in a research paper
Order for preparing a paper
Coming up with a good title
Tips on an effective lit review
Preparing figures and tables
… and others.
It's all concisely presented and easy to follow.
Recommended for: Academic writers starting out or just needing a refresher
For academic researchers starting out, this A to Z provides a clear overview that can help orient you.
On the other hand, if you're a seasoned academic writer already familiar with academic publishing, you might still find some helpful pointers or reminders.
Definitely worth a look!