You can get my free downloads in one place, on BuyMeACoffee.com. Go to my page and look under the "Extras" tab.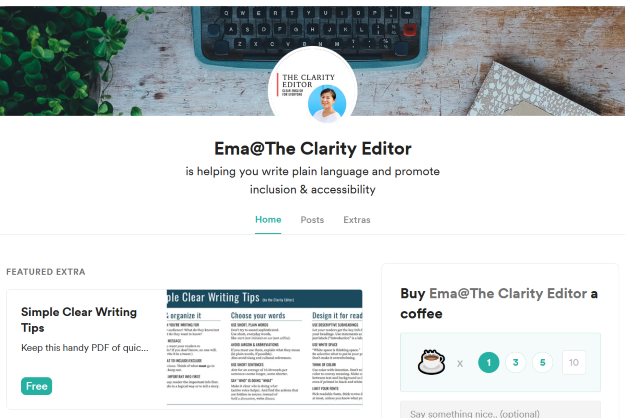 You can set $0 as the price for the freebies (although I'd welcome cups of coffee too 😉 ).
Please enter your email address to check out (your name is not required). That will add you as my "follower" in Buy Me A Coffee.
As a follower, you will get sporadic updates from me in the future—but once you get your download, you can unfollow me or opt out of notifications.
So here's the first resource for you: a one-pager quick tips on writing clearly ​​​​⬇
The button will take you to an external site (BuyMeACoffee.com). You can add the item to the cart, set the price to zero, put in your name and email, and hit "Pay." You'll get the download link. I'm sharing the file under the Creative Commons license CC BY-NC-ND 4.0.
Why do I blog and make all these resources?
If you're wondering why I bother blogging and making freebies, I have two reasons (and they're not all altruistic 😉)
I want as many people as possible to know about plain language and write more clearly, inclusively, and accessibly.
I get immense satisfaction knowing that my work and my own learning help others. (These all feed into "learn" and "give" under the five ways to wellbeing.)
Do drop me a note on LinkedIn or Facebook or buy me a cup of coffee if you find any of my work helpful. It'll make my day 🙂
Explore the resources library
Visit the resources library for more on